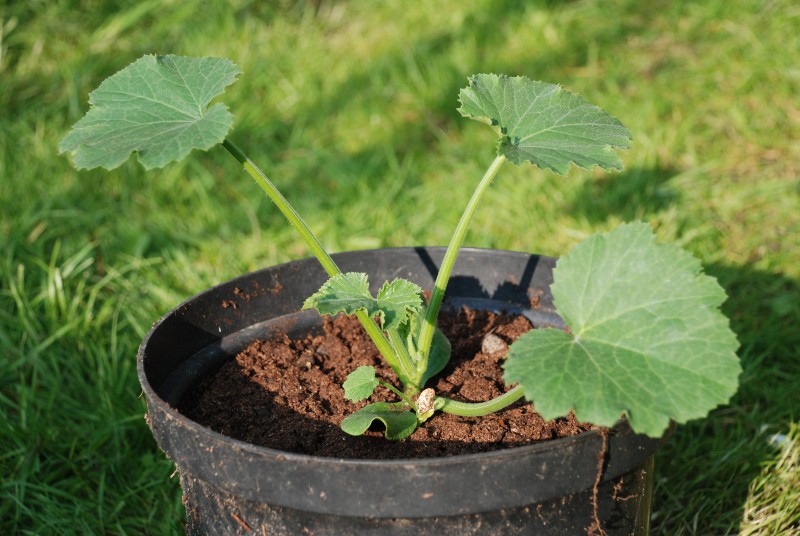 Grow Zucchini Plants in Pots and enjoy fresh Courgettes

Many people enjoy having a nice garden where they can plant whatever they wish. If you do not have a large back yard, do not despair, you can easily grow zucchini squash (or courgettes as they are also know as) in a pot. Zucchini plants don't require a garden; they can be planted in pots and containers. Just beware that you need to use bigger pots and containers, because these plants need space. Having said that, it is time to find out how to plant zucchini in pots. By growing zucchini in pots you may also want a nice set of pots to show off to your friends and family!
How to grow Zucchini Plants in Containers

1. Preparing to plant: First of all, you need to decide whether you want to start from scratch by planting zucchini seeds, or if you want to purchase a small zucchini plant and transfer it to your garden or patio. Buying a preexisting zucchini plant is surely easier but may not be as rewarding as growing them from seed. Zucchini thrives in summer and many people commonly refer to them as summer squash, so to meet that condition, it's best to plant zucchini in pots in the first or second week of spring. However, if you plan to grow your squash from seeds, you may want to start your seeds about a month or so prior, but you can also plant the zucchini seeds directly in the pot.
2. Planting location and potting mixture: Make sure you choose an area that gets plenty of sunshine; between 6-10 hours a day, as zucchini plants need plenty of sun to grow well. It is also very important when growing zucchini in pots that you use a decent potting mix that contain peat moss, soil, perlite and of course compost.
3. Planting process: The planting process itself is not difficult at all. You need to fill up the container with minimum five gallons of high quality potting mix. Make sure you use a pot or a container with a drainage hole, as your zucchini are likely to rot if left soggy without proper drainage. Growing zucchini squash in a pot is easy, however it includes a lot of waiting before you get to harvest the fruits of your labor. After you have filled up the container, it is time to water the potting mixture. If necessary, you may add more potting mix. Plant a few seeds of zucchini into the mixture (make sure to plant them somewhere around the middle of the container). After you have done all this, cover the seeds with an inch or two of soil.
4. After the planting process: Once you have planted the zucchini seeds, it is time to water them. Zucchini plants love water and moist but don't let them get soggy or even dry as they won't make it. Growing zucchini plants in pots is just like planting them in a garden. The space is small, but the same rules apply. Container and pot grown zucchini need care just as much as those grown in larger spaces, so check on them daily and fertilize throughout the summer months.

5. Harvesting: When your zucchini plants have grown at least four inches in length they have reached maturity and are ready to be picked. If you pick all your zucchinis all at once it will increase the squash production, so if you only want a few, it may be wise to leave a few on to slow down the production.

Not everyone has the privilege of owning a garden and growing zucchini plants in large open spaces, but luckily you don't need to. If you are keen on growing zucchini plants in pots, these few tips will hopefully help you off to a good start, so you can enjoy the benefits of balcony and patio vegetable gardening too.